There is a special type of door for cold rooms and adjacent rooms, the rapid roll-up door. This is a fully automatic door which, unlike all the others, has a vertical opening: the ideal solution when there is a need for a large number of people and means of transport such as trolleys and forklifts and, of course, goods.
Coiling doors for cold rooms are therefore very versatile and ideal for solving the problems inherent in separating different environments, such as the cold room and the storage area, while at the same time allowing fast and safe movement of goods and vehicles thanks to two fundamental requirements: the total absence of floor space and the speed of opening and closing.
The use of this type of door also avoids the need for repeated technical interventions, especially in the not-so-remote event of occasional collisions; this not only reduces management costs, but also saves precious time.
There are different types of roll-up doors for cold rooms: vertical roll-up, flexible hinged and flexible strip doors; let's see their respective characteristics.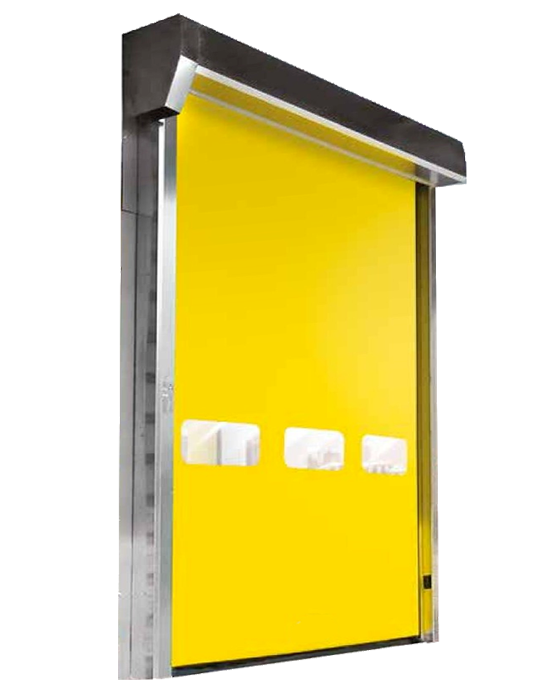 Vertical coiling
MIV Insulating Systems offer  a  vertical high-speed roll-up doors in its catalogue: Fast Roll .
It has a slim construction and is easy to maintain; from a technical point of view it has a high opening speed (up to 2.2 metres per second) and its configuration and/or modification of parameters is very simple thanks to the digital control panel with LCD screen and multilingual contextual menu.
It is supplied with a flexible PVC curtain which, in the event of accidental impact, and if the curtain comes out of the guides, can be restored with a simple manual operation.
Equipped with safety photocells or, alternatively, with a bundle of integrated light barriers that not only ensure safe operation for the operator but above all make it possible to avoid accidental contact with the curtain itself, thanks also to the immediate response time and great speed of ascent.
The sliding system of the curtain allows for a considerable thermal seal and thermal insulation between external and internal environments or internal environments with different working temperatures.
The models, available in various colours and materials of the structure,  while the variation of the width or passage light corresponds to one or more series of portholes, with different sizes.
The Fast Folding door, on the other hand, can be defined as the large rapid door par excellence, designed to provide a reliable product with low running costs and aimed at energy saving.
Installation is made easy as the door is supplied to the customer pre-wired in production, so that quick and easy installation can be carried out.
The structure, width, door leaf and windows are highly customisable according to the specific needs of the customer and above all in relation to the logistical characteristics of the place of installation and use.
Its standard equipment is complete with all the useful elements, for its immediate functionality and for the total safety of the user, and its use configuration is very simple as it is carried out through a special digital control panel with a multilingual LCD screen.
From a technical point of view, this door has a high opening and closing speed. Photocells or barriers ensure safe operation by preventing accidental contact between the operator (whether mechanised or not) and the door leaf.
The door curtain is flexible with transparent portholes.
Flexible hinged doors
Flexible hinged doors can be considered the ideal solution for dividing up various operating environments (especially those with a large surface area) and this in both industrial and commercial environments.
They can therefore be used indifferently in industry (including non-food industry), in the external part of warehouses and in large-scale distribution; they can also be used as a separator within large spaces as they are particularly suitable for being fitted on entrances where there is frequent passage.
 They are available both in the manual opening version with automatic spring closure and in the automatic version with pneumatic and electro-pneumatic devices for automatic opening; this can be done either by contact or by means of a special remote control, which can be the classic push-button, tie-rods or a radar detection system or the classic photocells.
Special versions are available for closing large gates with special features such as warehouses and workshops with high voltage overhead power lines.
Flexible strip locks
Flexible strip closures are the smaller version of hinged closures and are ideal for dividing different types of rooms internally, especially in cold stores with different temperature brooms, or for use in passageways in industry and logistics, as they are perfectly suited for installation on escape routes.
 The use of this flexible closure avoids flow and heat exchange between neighbouring rooms of different temperatures, obviating the need for more costly systems or additional internal compartmentalisation.
A barrier of simple construction and easy installation, the flexible strip door is an economical but highly functional solution.