Lightweight industrial sliding Chiller doors can be used exclusively for indoor environments on cold rooms with different types of use, such as the processing and maturing of foodstuffs at a positive temperature; their functionality is particularly appreciated in warehouses where fruit and vegetables need to be stored, or in supermarkets.
MIV's catalogue includes the 976-977P model, which can operate at a temperature of between 0 and +4°C, and can be installed either directly on the panel or on masonry.
The door-wing edge is made of aluminium, can be 60 or 70 millimetres thick and is injected with "PUR" type polyurethane foam, completely CFC-free and with a density of 40/42 kg/m3.
The 900P sliding door model, door-wing thickness 70 mm, is suitable for cold rooms where require a lot of handling, such as those used for storing fruit and vegetables, meat in slaughterhouses, storage warehouses and supermarkets.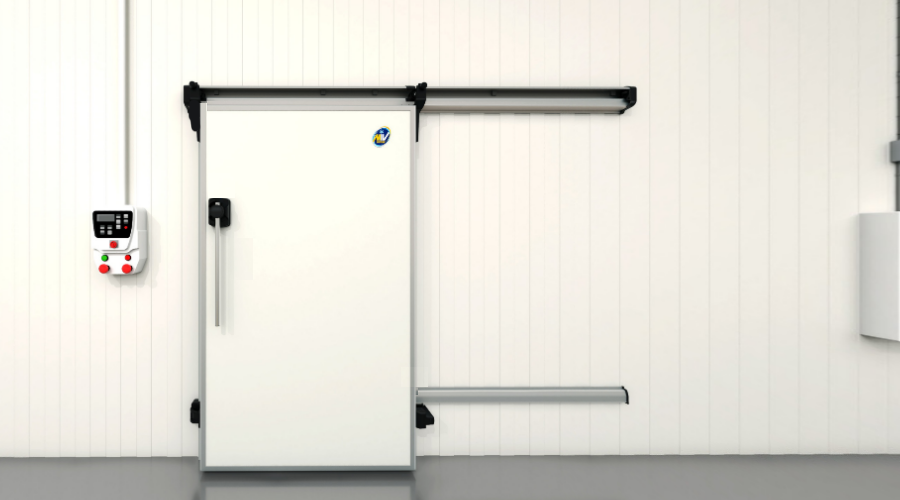 It has an EPDM gasket that provides a perimeter and bottom seal, door leaf is supported by steel brackets and technopolymer pulley and slides on an anodised aluminium track with a track cover. The lower guide is in anodised aluminium applied directly to the panel; this sliding system is therefore suitable for small and medium-sized; maximum size of 220 cm in width and 330 cm in height.
The same sliding door, with a 90 mm thick door edge, model 900M has the only difference of the maximum net opening, equal to 250 cm and 340 cm in height.
The characteristic of these two models is the "L"- PVC frame of 140×45 mm, with the possibility of integrating additional modules to reach the thickness of the panel or masonry, up to closing with the counter-frame, standard in PVC and on request in aluminium. The opening is allowed by the handles with lever, whose length varies according to the size of the door leaf, made of aluminium or stainless steel on request.
The industrial model 800MI is equipped with a lower guide and floor and register in Aisi 304 stainless steel; the "Heavy duty" sliding system is particularly suitable for large door leaves and use in difficult conditions. The opening handles with lever in stainless steel are complete with reinforcements for heavy duty use.
The 140×45 mm flat aluminium frame with frontal fastening is the thermal break profile that best guarantees structural solidity and thermal resistance, preventing thermal bridges and transmittance from outside and inside the cell. Plastic-coated or stainless steel sheet metal is available on request to connect pannel.
Doors mod.900M and mod.880MI can be equipped with accessories such as safety locks or motorised automation systems.
For large compartments, as part of the positive temperature sliding Chiller doors for cold rooms, there is the 890M model, which can be fitted either on panels or on masonry, has a 90 mm door leaf, supported by brackets and pulleys of a larger size, Ø 92 mm, made of technopolymer.
As with the industrial model, the heavy duty sliding system is suitable for large sashes.