Negative temperature cold rooms can be particularly subject to considerable heat exchange, so the door is of fundamental importance in maintaining the so-called "cold chain".
In the field of sliding doors suitable for cold rooms for freezing and storing various types of foodstuffs and everything that needs to be stored at low temperatures, MIV Insulating Systems offers various models that can be adapted to many types of cold rooms, with a sliding system that can be either light or heavy.
The basic model of sliding door for negative temperature (with a range from 0 to -25 degrees) is for indoor use only and can be installed either on panel or masonry.
The door leaf is injected with "PUR" polyurethane foam completely free of CFC and has a density 40/42 kg/m3 and is supported by brackets and technopolymer pulleys; it slides on an anodised aluminium track with track cover and its edge is made of aluminium with a thickness ranging 90/120 mm.
The lower guide is also made of anodised aluminium and is applied directly to the panel; the entire sliding system is therefore suitable for medium-large door leaves.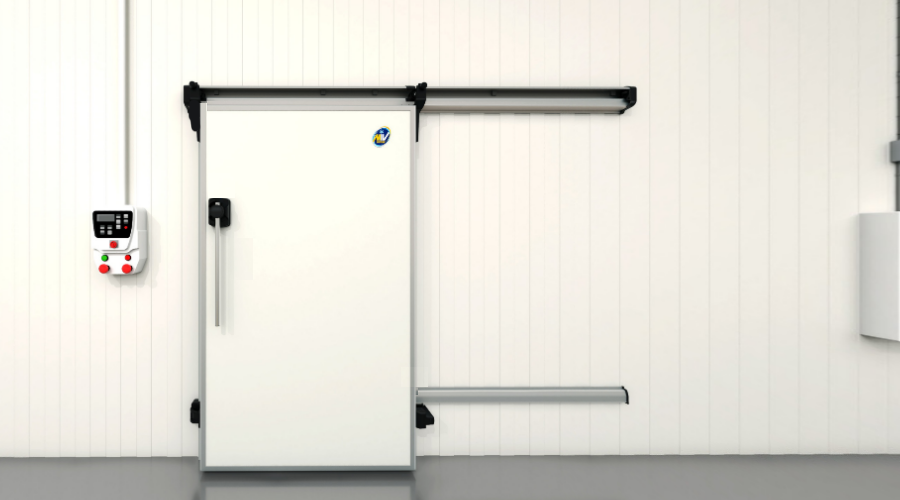 The covering is in white plastic-coated metal-sheet (it can also be requested in stainless steel), equipped with a double EPDM gasket with the heating cable that can be applied either on the frame (with heated threshold) or inside the gaskets; The opening is allowed by the handles with lever, whose length varies according to the size of the door leaf, made of aluminium or stainless steel on request.
The maximum span dimensions of this type of door are 250 cm in width and 340 cm in height.
Mod.900BT with PVC frame "L" type 140 x 45 mm , with the possibility of integrating additional modules to reach the thickness of the panel or masonry, up to closing with the counter-frame, standard in PVC and on request in aluminium..
Optionally, the door can be implemented with an advanced automation system, which allows the door opening and closing cycle time to be reduced to a minimum.
The industrial mod.800BTI is equipped with a lower guide and floor and register in Aisi 304 stainless steel; the "Heavy duty" sliding system is particularly suitable for large door leaves and use in difficult conditions. The opening handles with lever in stainless steel are complete with reinforcements for heavy duty use. Can be applied to large cold stores or freezer rooms because, being particularly robust, it is perfectly suited to heavy-duty use for large accesses.
The 140×45 mm flat aluminium frame with frontal fastening is the thermal break profile that best guarantees structural solidity and thermal resistance, preventing thermal bridges and transmittance from outside and inside the cell.