REFRIGERA Bologna Fair Italy 7 November – 9 November 2023
Hall 30 Stand F02 MIV Insulating Systems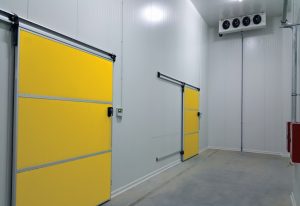 You can find us again this year at the REFRIGERA 2023 trade fair.
The only trade fair in Italy that is now a reference point for Southern Europe and the Mediterranean.
At the fair you can see a wide range of our products and doors for industrial refrigeration on display.
If you are a professional in the industrial refrigeration sector or simply interested in discovering the latest trends in this field, then you have a date to mark in your calendar: from 7 November to 9 November, the Bologna Exhibition Centre will host an exceptional event dedicated to industrial refrigeration.
Industrial refrigeration plays a key role in a wide range of sectors, from food production to the pharmaceutical industry, from logistics to energy. This exhibition is the perfect opportunity to explore the latest technological innovations and sustainable solutions that are driving the evolution of this crucial sector.
Don't miss the opportunity to attend this outstanding exhibition dedicated to industrial refrigeration in Bologna. From 7 November to 9 November, at the exhibition centre, you will have the opportunity to be followed by our professional staff who will help you find the best solution for your needs.
Fair information
Contact whatsapp: https://api.whatsapp.com/message/BWKLO7GYVGFDK1
For further information write to us in our: contact form
Website Refrigera fair link: https://refrigera.show/
Facebook Refrigera fair link:  https://www.facebook.com/refrigera.show
Linkedin Refrigera fair link: https://www.linkedin.com/company/refrigera/